Gunpo, Gyeonggi (Korea) initiated a trilateral youth exchange program with Linyi, Shandong (China), and Atsugi, Kanagawa (Japan) in 2010, a program which continues until today. At the time of the commencement of the exchange program, Gunpo had sister/friendship relations with both Linyi and Atsugi, since 2008 and 2005 respectively.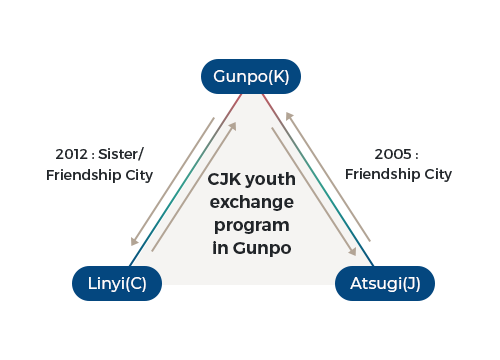 Gunpo runs an annual exchange program in which it sends and invites youths to and from Linyi and Atsugi. When Gunpo dispatches its youth to the other cities, the program is a bilateral one, yet when Gunpo invites youth from Linyi and Atsugi, the program is run as a trilateral exchange program through the International Youth Festival where youths from the three cities gather together. The exchange program run by Gunpo is a good example that shows trilateral exchange among three CJK cities is possible even with the absence of sister/friendship relation among the three cities.
Since 2010: "International Youth Festival" Hosted by Gunpo

In July 2010, Gunpo hosted the first Gunpo International Youth Festival where youths from Linyi, Atsugi, and Gunpo participated. The detailed programs run at the festival are: (1) three-night homestay program for Chinese and Japanese students at the homes of the partner student from Gunpo (2) a one-night camp for everybody and the 'arena of unity' (3) meeting with the Mayor of Gunpo and the Chairman of Gunpo City Council (4) Korean language sessions, cultural experiences including K-Pop, traditional etiquettes, pottery, and field trips. Moreover, Gunpo regularized a program in which middle to high school students interested in Chinese or Japanese language are recruited and given chances to visit Linyi (in August) and Atsugi (In July the next year) after the festival.
Events :
Events

| No. | Date | Participating Country |
| --- | --- | --- |
| 1st | July 23-29, 2010 | China, Japan, and Korea |
| 2nd | July 21-20, 2011 | China, Japan, and Korea |
| 3rd | July 20-30, 2012 | China, Japan, Korea, and Russia (Ussuriysk) |
| 4th | July 22-28, 2013 | China, Japan, Korea, and Russia (Ussuriysk) |
| 5th | July 25-30, 2016 | China, Japan, and Korea |
| 6th | July 25-31, 2017 | CChina, Japan, and Korea |
| 7th | July 23-29, 2018 | China, Japan, and Korea |
| 8th | July 20-25, 2019 | China and Japan |
| 9th | 2022 [tentative] | TBD |
2019 Gunpo International Youth Festival K-Pop Dance Class
(Source: Gunpo City)