Jiangsu (China), Ishikawa (Japan) and North Jeolla (Korea) conduct environment exchanges at the working-level.

The exchanges among the three began when Jiangsu and North Jeolla concluded a sister/friendship city agreement in October 1994, Jiangsu and Ishikawa signed an agreement on friendship exchange in November 1995, and Ishikawa and North Jeolla signed the Agreement on Friendly Exchange on September 2001.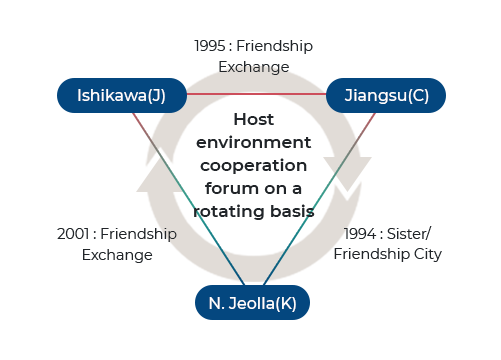 A regular program run by the three regions is the Environmental Cooperation Trilateral Program. Started as a bilateral program between Ishikawa and North Jeolla in 2003, the program became trilateral in 2006 following the inclusion of Jiangsu and continues to this day.
Since 2003: CJK Environmental Cooperation Forum Held on a Rotational Basis

The three regions hold review sessions and cultural exchange events among the public servants in charge of environment preservation on a rotational basis, to cooperate and share understanding in dealing with environmental problems, a common important issue for the three regions. The forum, which was postponed twice since 2020 due to COVID-19, will resume as soon as the pandemic situation in each country alleviates.
2019 CJK Environmental Cooperation Forum
(Source: North Jeolla Province)
Past Events :
개최 실적
No.
Year
Location
Theme
1st
2003 *
Ishikawa
Environmental Education
2nd
2004 *
Ishikawa
Environmental Consideration and Environmental Education in Companies and Government Agencies
3rd
2005 *
Ishikawa
Promotion of Circular Economy
4th
2006
Jiangsu
Aquatic Environment Protection
5th
2007
North Jeolla
Countering Global Warming
6th
2008
Ishikawa
Countering Global Warming
7th
2009
Jiangsu
Biodiversity Protection
8th
2013 *
Ishikawa
Countering Global Warming
9th
2014 *
North Jeolla
Biodiversity Protection
10th
2015 *
Ishikawa
Resource Circulation Policy
11th
2016
Jiangsu
Management and Recycling of Solid Waste
12th
2017
North Jeolla
Collective Measures against PM 2.5
13th
2018
Ishikawa
Utilization and Protection of Mountains in the Proximity of Villages
14th
2019
Jiangsu
Management, Restoration, and Utilization of Ground Pollution
15th
2022
[tentative]
North Jeolla
* Held only between Japan and Korea (bilateral meeting). Years indicated above are Japanese fiscal years (April 1 – March 31).
(Source: shikawa Prefecture)