The exchanges between the three cities of Yangzhou, Jiangsu (China), Karatsu, Saga (Japan), and Yeosu, South Jeolla (Korea) began when Yangzhou and Karatsu became friendship cities in February 1982, and Karatsu and Yeosu reached a sister cities agreement in March of the same year. In 1993, the three cities' mayors held a meeting, leading Yangzhou and Yeosu to tie a friendship exchange agreement in 1995, completing the trilateral exchange mechanism.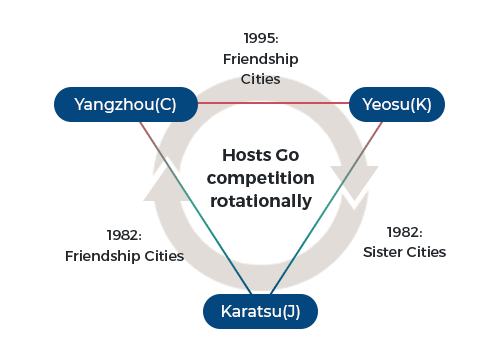 Based on this relationship, the three cities have hosted the CJK Sister/ Friendship Cities Go (board game) Exchange Tournament since 1999. This case is one of the longest standing trilateral local exchange programs.

Yangzhou was selected for the CCEA 2020 with Kitakyushu (Japan) and Suncheon (Korea).
Since 1999: Go Tournament among the Three Cities

The CJK Sister/Friendship Cities Go Exchange Tournament began in 1999 with the purpose of deepening cultural exchange among Yangzhou, Karatsu, and Yeosu, as well as of building mutual understanding and friendship among citizens. The event is hosted annually on a rotational basis, and the 2019 event marked the 21st anniversary.
The 21st CJK Sister/Friendship Cities Go Exchange Tournament (Source: Karatsu City)
Events :
개최 실적

| Event No. | Date | Location |
| --- | --- | --- |
| 1st | July 5– 11, 1999 | Yangzhou (C) |
| 2nd | May 3 – 6, 2000 | Yeosu (K) |
| 3rd | June 29 – July 2, 2001 | Karatsu (J) |
| 4th | November 15 – 19, 2002 | Yangzhou (C) |
| 5th | October 16 – 20, 2003 | Yeosu (K) |
| 6th | August 6 – 8, 2004 | Karatsu (J) |
| 7th | June 26 – 29, 2005 | Yangzhou (C) |
| 8th | October 25 – 28, 2006 | Yeosu (K) |
| 9th | August 28 – 31, 2007 | Karatsu (J) |
| 10th | October 17 – 20, 2008 | Yangzhou (C) |
| 11th | September 17 – 19, 2009 | Yeosu (K) |
| 12th | August 23 – 26, 2010 | Karatsu (J) |
| 13th | October 21 – 24, 2011 | Yangzhou (C) |
| 14th | October 18 – 20, 2012 | Yeosu (K) |
| 15th | August 29 – 31, 2013 | Karatsu (J) |
| 16th | October 16 – 19 , 2014 | Yangzhou (C) |
| 17th | November 29 – 31, 2015 | Yeosu (K) |
| 18th | November 11 – 13, 2016 | Karatsu (J) |
| 19th | November 6 – 9, 2017 | Yangzhou (C) |
| 20th | November 15 – 17, 2018 | Yeosu (K) |
| 21st | November 9-10, 2019 | Karatsu (J) |
| 22nd | 2022 [tentative] | Yangzhou (C) |
(Source: Karatsu City, Yeosu City)