EVENT
[Announcement] TCS 10th Anniversary Symposium Series Vol.1 "A Conversation with TCS Secretary-General Hisashi Michigami: Trilateral Cooperation and Youth Exchange" (Closed)
2021.03.17
[Announcement] TCS 10th Anniversary Symposium Series Vol.1 "A Conversation with TCS
Secretary-General Hisashi Michigami: Trilateral Cooperation and Youth Exchange"
Date/Time: Mar. 17, 2021 (Wed.) 14:00-15:30 (GMT+9)
Format: Online via Zoom
Presentation language: Chinese/Japanese/Korean Simultaneous Interpretation Provided
Participation Fee: Free
Speakers:
• Mr. MICHIGAMI Hisashi, Secretary-General of the Trilateral Cooperation Secretariat (TCS)
• Dr. CHANG Jekuk, President of Dongseo University
Registration link: https://bit.ly/3br9fW0
• A confirmation email including participation details will be sent after registration.
• (Optional) Questions submitted via registration will be prioritized in the Q&A session.
Overview:
2021 is the 10th anniversary since the founding of the TCS. The TCS is an international organization established by the governments of China, Japan and the ROK in 2011 for the promotion of cooperative relations among the three countries. The TCS is holding a series of symposiums to discuss the various facets of trilateral cooperation. For its first event, the TCS will hold an online open dialogue on March 17 14:00 - 15:30 (Tokyo/Seoul standard time), with the TCS Secretary-General Hisashi Michigami. Alongside Dr. Chang Jekuk of Dongseo University, he will discuss the past 10 years of TCS, how the three countries can learn from each other, difficulties of trilateral youth exchange during the COVID-19 pandemic, and opportunities for cooperation in the post-corona era. We will have students join the discussion, and provide opportunities to directly deliver the voice of the youth to the two speakers. We strongly look forward to your participation!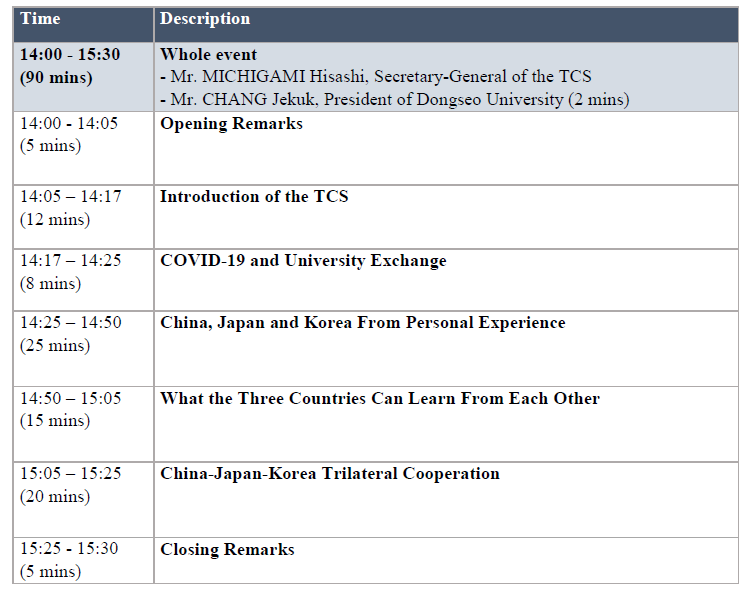 Inquiries: r.sawayama@tcs-asia.org