Seminar & Forum
Deputy Secretary-General BEK Bumhym attended the 79th Session of ESCAP
2023.05.16
On May 16, 2023, Trilateral Cooperation Secretariat (TCS) Deputy Secretary-General BEK Bumhym attended the 79th Session of the Economic and Social Commission for Asia and the Pacific (ESCAP) which was held on May 15-19, 2023 at the United Nation Conference Centre in Bangkok, Thailand.
This year, the Session was held under the theme of 'Accelerating climate action in Asia and the Pacific for sustainable development'. TCS was invited as one of representatives of subregional organizations to speak about TCS' perspectives on accelerating climate action and proposing key areas for possible cooperation among the subregional organizations in collaboration with ESCAP. At the dialogue, DSG BEK delivered an intervention, in which he illustrated the leadership of China, Japan, and Republic of Korea (ROK) in combatting climate crisis, especially in the area of technology innovation and policy development.
Additionally, TCS and ESCAP co-organized a side event at the 79th Commission Session, titled 'Connecting Local, National and Regional Strategies to Achieve Carbon Neutrality in Asia and the Pacific'. The side event took the form of a roundtable discussion among experts from CJK and Asia-Pacific to showcase climate actions initiated by local governments and to discuss how to accelerate climate actions at the local level in Asia and the Pacific.
Along with Ms. Hyoeun Kim, Ambassador and Deputy Minister for Climate Change of ROK, and Mr. Ganbold Basaanjav Head of ESCAP Subregional Office for East and Northeast Asia, DSG BEK delivered opening remarks where he illustrated the importance of exchanging best practices of CJK and sharing the knowledge to Asia and the Pacific. A keynote speech by Honorable Naseer Ahamed, Minister of Environment of Sri Lanka was also made at the event.
Furthermore, on May 17, DSG BEK met with ESCAP Executive Secretary Ms. Armida Salsiah Alisjahbana to discuss further cooperation opportunities between TCS and ESCAP on carbon neutrality, statistics platforms, and digital connectivity in East Asia. Ms. Armida Salsiah Alisjahbana welcomed the TCS delegation and the continued cooperation. She also stressed that CJK have a central role in climate action and called for more progressive measures from the three countries. DSG BEK expressed his appreciation to ESCAP for their long support in promoting trilateral cooperation, namely through the Forum on Carbon Neutrality Goals of CJK, and the upcoming International Forum on Trilateral Cooperation, in which ESCAP will collaborate in convening one of the sessions. The meeting concluded with both parties agreeing to strengthen bilateral cooperation in the future.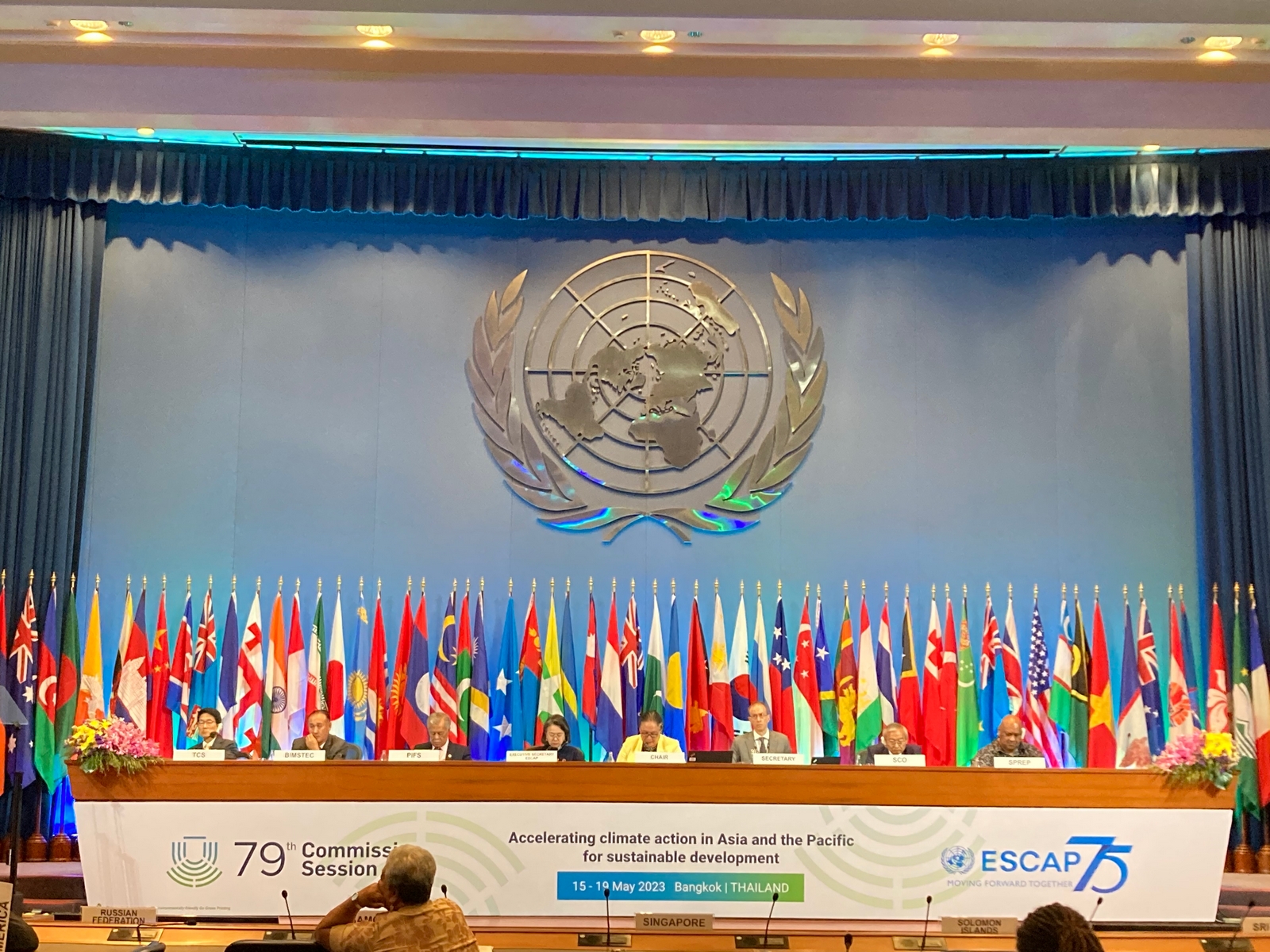 ▲Deputy Secretary-General BEK Bumhym attending 79th Commission Session
▲
Meeting with Ms. Armida Salsiah Alisjahbana, Executive Secretary of ESCAP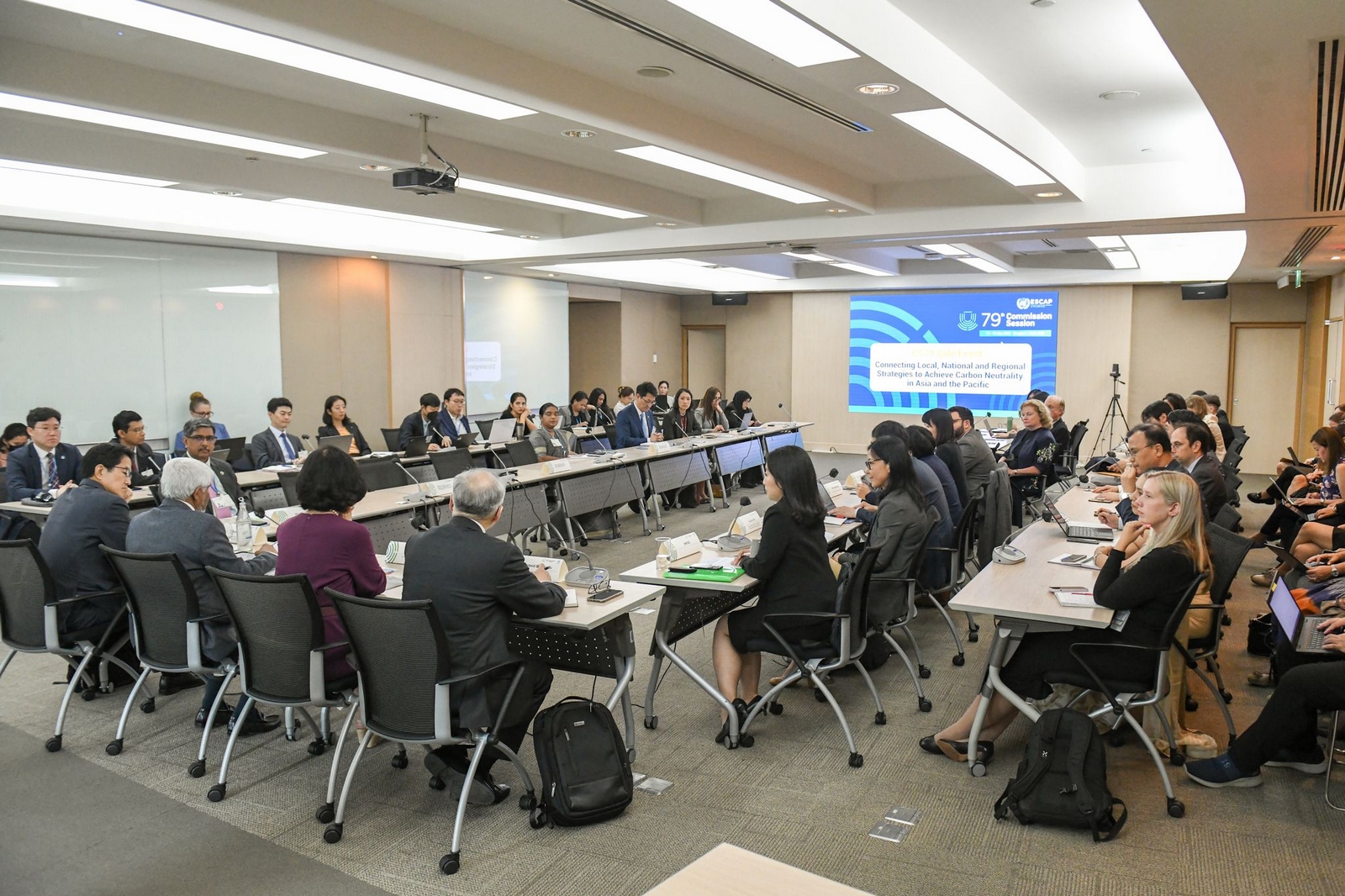 ▲
Side Event of the 79th Commission Session co-organized by TCS, ROK government, and ESCAP