Others
TCS 6th Consultative Board Paid a Courtesy Call on Mr. PARK Tae-young, Deputy Minister for Culture and Arts Policy, ROK
2021.11.18
On November 18, 2021, TCS 6th Consultative Board, headed by Secretary-General Amb. OU Boqian, paid a courtesy call on Mr. PARK Tae-young, Deputy Minister for Culture and Arts Policy, at Government Complex Sejong. Both sides exchanged views on the progress and prospect of the trilateral cooperation in the fields of culture, sports and tourism.
Deputy Minister PARK introduced that the MCST deals with various areas of trilateral cooperation: culture, sports, and tourism, and is actively promoting cooperative projects such as Culture City of East Asia (CCEA). Although such exchanges are not going as well as planned due to the spread of the pandemic, MCST will be promoting detailed cooperation plans by collecting opinions from the fields and other two countries in line with the "Living with COVID-19" policy. He stated that MCST is supportive of TCS's deeper engagement in cultural and social areas, and will provide necessary support in this regard.
SG OU introduced the history of trilateral cooperation and the TCS' decennial anniversary, and stated that cooperating with the three governments are one of the important functions of TCS. She mentioned that culture, sports, and tourism are very important areas of cooperation in that they can link people's minds. SG OU noted that strengthening people-to-people exchange is essential to improve the mutual perception among the young people of the three countries, emphasizing that the three countries can shape their future through developing commonalities based on shared cultural values. She expected MCST's continued support for TCS in facilitating trilateral cooperation by contributing to the mechanisms and initiatives of the three ministries.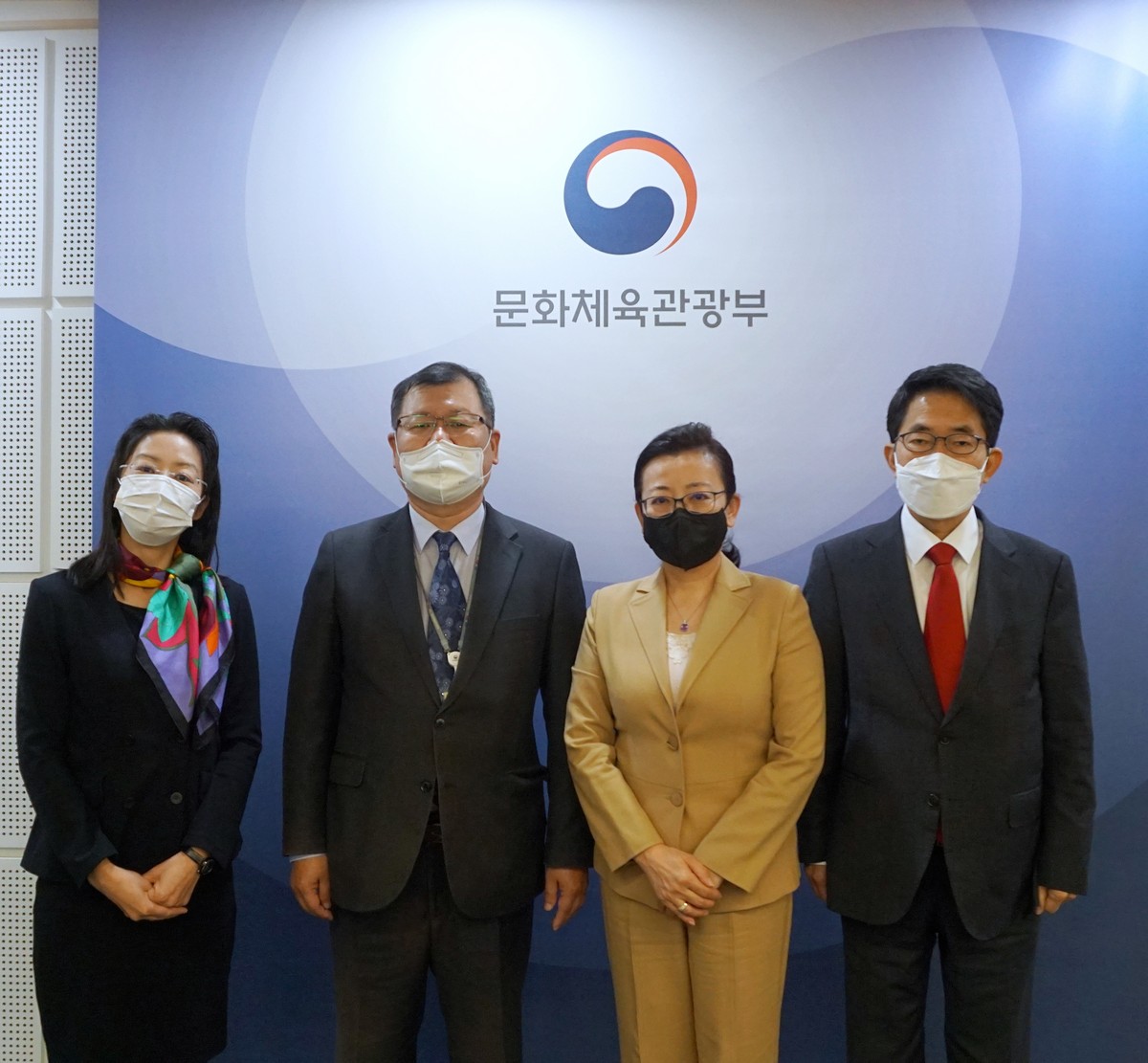 ▲Group Photo (from left: TCS Deputy Secretary-General SAKATA Natsuko, Mr. PARK Tae-young, TCS Secretary-General Amb. OU Boqian and Deputy Secretary-General BEK Bum-hym)