Seminar & Forum
TCS hosts China-Japan-Korea Journalism Seminar
2021.06.21
On June 21, 2021, the Trilateral Cooperation Secretariat (TCS) organized the China-Japan-Korea Journalism Seminar at the Foreign Press Center Korea. Nine reporters from the three countries joined the seminar. TCS Secretary-General MICHIGAMI Hisashi and Deputy Secretary-General CAO Jing attended the seminar.
Under the theme of "New Changes and New Trends in CJK Media," journalists discussed the pandemic's effects on journalism, digital transformation in the media business, and the TCS' role in promoting trilateral media cooperation.
Secretary-General MICHIGAMI delivered opening remarks. In his remarks, he said that deepening communication and mutual understanding among journalists are meaningful for trilateral cooperation. He hopes journalists can find new ways to deal with the challenges and changes through exchanging opinions and learning from each other.
Following his remarks, participating journalists shared their experiences and difficulties during the pandemic and discussed the importance of seeking facts.
TCS initiated the journalist exchange program in 2014 to provide opportunities for mutual exchange and understanding among journalists in the three countries. This year the seminar was organized in an offline-online hybrid format in consideration of the COVID-19 pandemic. ZHOU Yubo, CEO of People's Daily Online Korea, joined as a moderator.
* Off-line participants include:
- LU Rui Seoul Correspondent of Xinhua
- TANG Xin, Seoul Correspondent of CCTV
- SASSA Kazuto, Seoul Correspondent of NHK
- TAJIRI Ryota, Seoul Correspondent of Kyodo News
- CHOI Howon, Senior Reporter of Policy & Culture Desk of SBS
- KIM Mikyung, Editor of Policy News Desk of Seoul Shinmun Daily
* Online participants include:
- SHEN Shiwei, News Producer & Columnist of CGTN
- KUSAKABE Motomi, reporter of Mainichi Shimbun
- LEE Jaeho, Beijing Correspondent of Aju Business Daily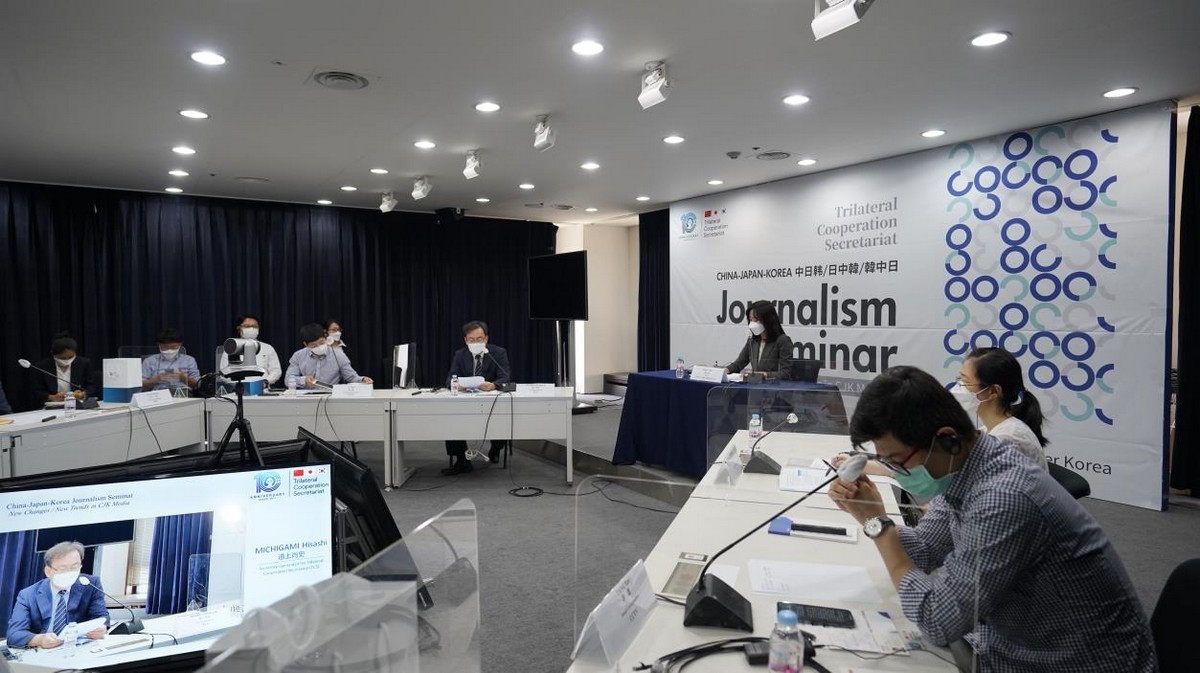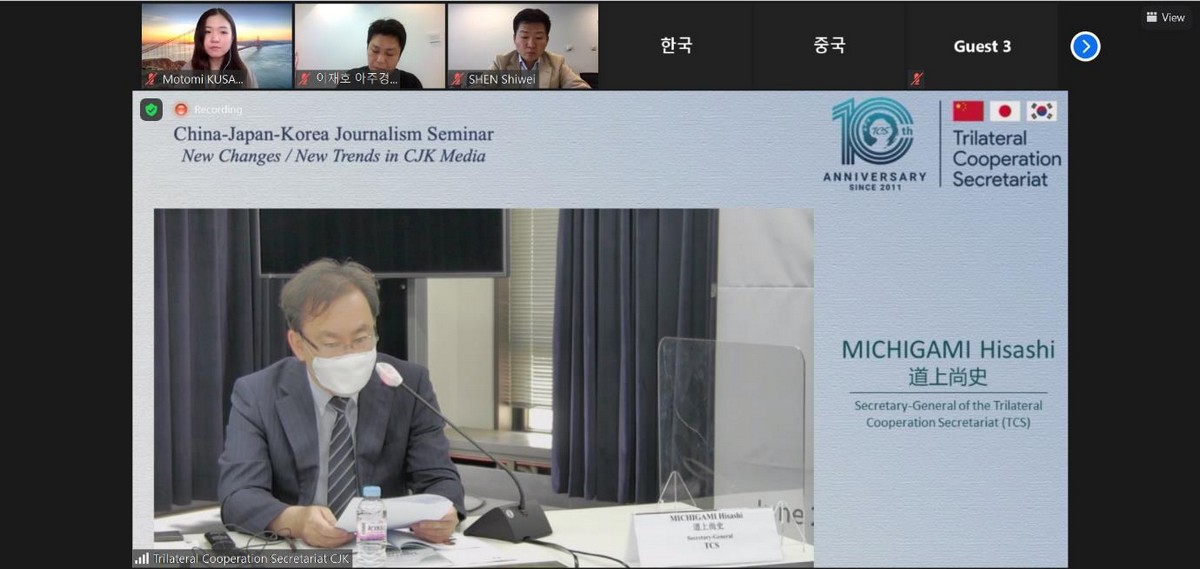 ▲SG MICHIGAMI delivers opening remarks