Others
50th East Asia Business Council Meeting
2021.01.21 ~ 2021.01.22
The 50th East Asia Business Council Meeting (Teleconference) was held on 21-22 January 2021. Representatives from ASEAN+3 business associations participated the meeting. As representative of the TCS, Director of Economic Affairs NAGAFUCHI Kenji attended the working group meeting held on 21 January and delivered presentation.
At the Meeting, Director NAGAFUCHI introduced TCS's cooperation history with EABC, 2020 main trilateral mechanisms, TCS's activities and publication including supporting trilateral consultative mechanisms in pandemic period and keeping up the momentum of trilateral cooperation through virtual events and dissemination of publications and research findings.
On the occasion of the upcoming 10th anniversary of the TCS, Director NAGAFUCHI also took the chance to express the TCS's welcome to the EABC members for their continuous cooperation and participation in the TCS's commemorative events this year and highlighted that TCS would explore more opportunities to exchange ideas with ASEAN institutions including EABC through diverse forms in the future.
The EABC was inaugurated in 2004, endorsed by ASEAN+3 leaders. Its objective is to strengthen cooperation among ASEAN+3 private sectors as well as promote intraregional trade and investment, and further enhance the work and initiatives of ASEAN+3 cooperation.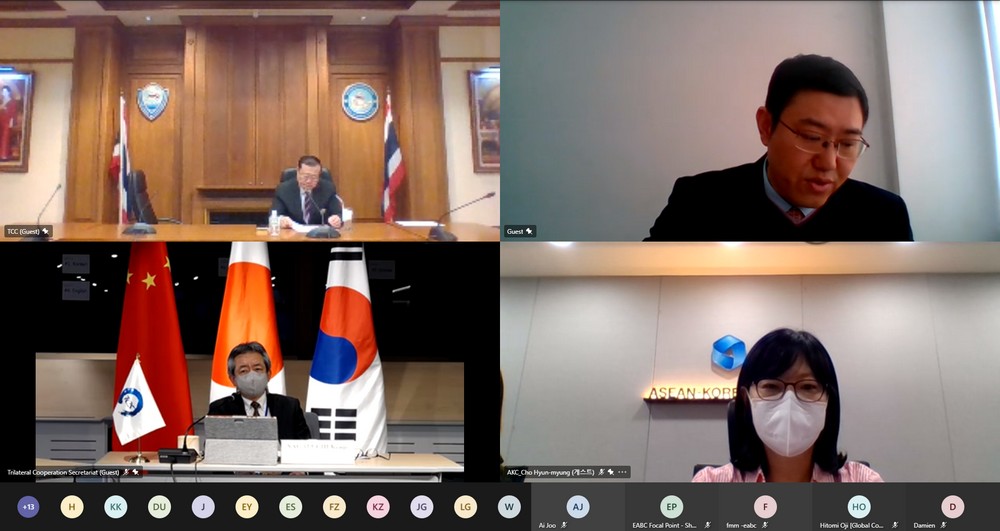 ▲50th EABC meeting in progress