Others
2nd Trilateral Nanotechnology Cooperation Dialogue
2019.04.03
​On April 3, 2019, TCS delegation headed by Deputy Secretary-General HAN Mei participated in the 2nd Trilateral Nanotechnology Cooperation Dialogue at the Hanyang University, Seoul. The Dialogue is the Track II platform for the promotion of mutual understanding and development of trilateral cooperation among nanotechnology institutions of the three countries.
In her remarks at the Dialogue, DSG HAN introduced the history and progress of the trilateral cooperation and emphasized that continuous exchanges between experts and scholars of the three countries is very important to keep momentum of the trilateral cooperation. DSG HAN stated that the TCS will make efforts to play a bridging role between the government and academy to contribute to the development of trilateral cooperation on science and technology.
Participating scientists from the three countries shared opinions and suggestions on feasible trilateral cooperation on nanotechnology that scientists can make efforts to upgrade their track II cooperation to governmental level.
On this occasion, DSG HAN met Dr. BAI Chunli, President of the China Academy of Science (CAS), introduced the TCS, and shared opinions on the development of trilateral cooperation on science and technology.
The track II trilateral nanotechnology cooperation was initiated by signing the MOU by the National Center for Nanoscience and Technology of China (NCNST), the Japan Nano Tech Executive Committee (JNTEC), the Korea Nano Technology Research Society (KoNTRS), and the Korea Infrastructure Organization for Nanotechnology (KION) in 2015.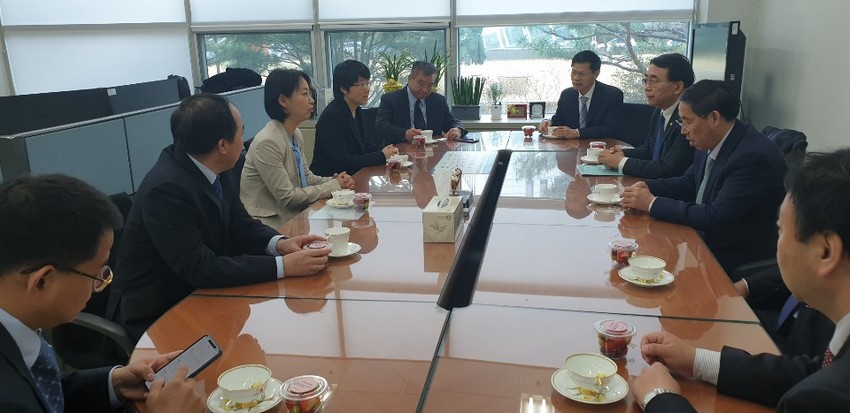 ▲Deputy Secretary-General HAN Mei meets Dr. BAI Chunli