Seminar & Forum
TCS hosted a Session on the Occasion of the Seminar on the 15th Anniversary of Trilateral Cooperation
2014.12.23
On December 23, 2014, China Foreign Affairs University (CFAU) and Jilin Trilateral Cooperation Studies Centre (TCSC Jilin) co-hosted the Seminar on the 15th Anniversary of Trilateral Cooperation & 1st Trilateral People-to-People Exchange Forum in Changchun, Jilin Province of China. The Seminar & Forum was held as an important track 1.5 event to commemorate the 15th anniversary of trilateral cooperation, inviting former dignitaries, current government officials and eminent scholars of Japan, China, and the Republic of Korea (ROK).
TCS, as a co-sponsor of this event, organized a session under the theme of "Exploring the Path toward Mutual Trust and Reconciliation in Northeast Asia" with an aim to find out ways to promote historical reconciliation through comparative discussions on history education systems of the three countries.
Secretary-General Iwatani Shigeo moderated the discussion and panelists from the three countries shared their hands-on experiences in writing history textbooks of their respective countries as well as their insights and specific suggestions on the future direction for trilateral cooperation in this field.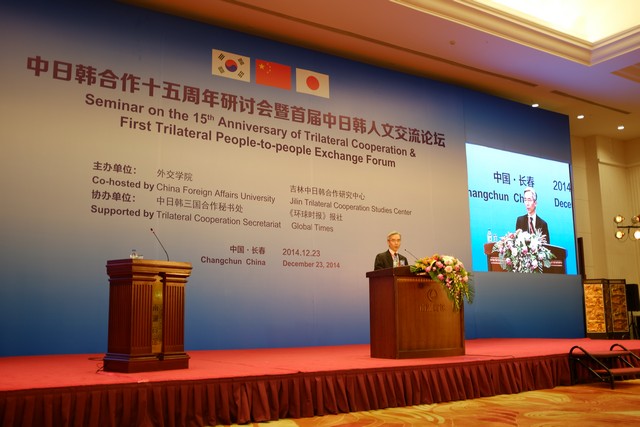 TCS Secretary-General Iwatani Shigeo delivering a speech at Opening and Keynote Session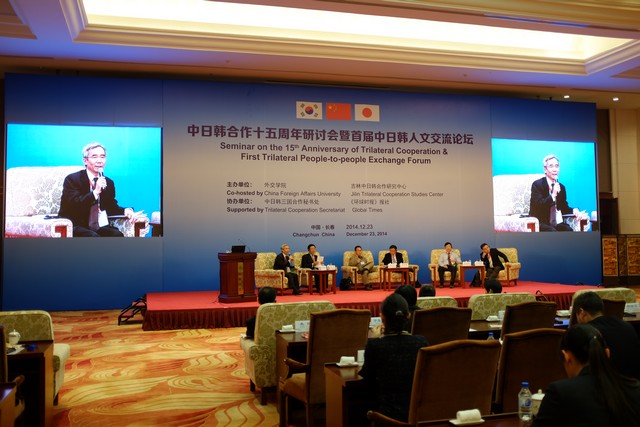 TCS Secretary-General Iwatani Shigeo moderating the TCS Session ti
tled "Exploring the Path toward Mutual Trust and Reconciliation in Northeast Asia"