Seminar & Forum
TCS hosted 2015 International Forum for the Trilateral Cooperation (IFTC) in Keio Plaza Hotel, Tokyo Japan
2015.04.03
The Trilateral Cooperation Secretariat (TCS) organized 2015 International Forum for the Trilateral Cooperation (IFTC), under the theme of "Challenges and Opportunities – Ushering into a New Era" in Tokyo, Japan on April 3rd.
The Forum gathered high-profile government officials, renowned scholars and diplomatic community, and attracted more than 340 participants from the three countries. Heralding the spring for the trilateral cooperation signified by the 7th Trilateral Foreign Minister's Meeting, TCS organized IFTC in Japan for the 1st time successfully. Further, IFTC was followed by Business Networking Reception 2015 which built up networks for new business opportunities among business pioneers of the three countries by sharing future vision of trilateral industrial cooperation.
The Forum was attended by dignitaries from the three countries. Mr. Fukuda Yasuo, Former Prime Minister of Japan; Mr. Li Zhaoxing, Former Foreign Minister of China; Mr. Han Seung-soo, Former Prime Minister of the ROK delivered keynote speeches, and expressed their expectation for the trilateral cooperation. Mr. Watanabe Masataka, President and CEO of the Asahi Shimbun; Mr. Song Hee-young, Editor in Chief of the Chosun Ilbo; Mr. Shimokawa Makita, Deputy Director-General, Ministry of Foreign Affairs of Japan (on behalf of Mr. Kishida Fumio, Minister of Foreign Affairs) delivered the opening remarks.
The Forum was composed by 3 sub-sessions of "Towards a Peaceful and Cooperative Northeast Asia: Exploring Practicable Trilateral Dialogue Mechanism for Common Security", "Cooperate to Learn, Learn to Cooperate: The Trilateral Educational Exchanges and Sense of Community", "New Opportunities for Trilateral Industrial 'Coopetition': Collective Voice of Business Leaders toward CJK FTA and Beyond". Prominent speakers not only from the three countries but also from ASEAN, EU, and US addressed a variety of current affairs including dialogue mechanism in Northeast Asia, regional educational exchanges, CJK FTA, and etc.
Mr. Iwatani Shigeo, Secretary General of the TCS stated that the three countries witnessed a very important step forward to a full restoration of trilateral cooperation through the three Foreign Ministers Meeting which reaffirmed their commitments to developing the trilateral cooperation mechanism as an important fr
amework of cooperation for peace, stability and prosperity in Northeast Asia. He added, "even though we cannot neglect the fact that the trilateral cooperation is confronted with several challenges, however it is timely and critical for the three countries to seize this opportunity to courageously address such challenges in a constructive and forward-looking manner."
Since 2011, the IFTC is one of the most prominent projects of the TCS to raise the public awareness of the trilateral cooperation, as well as to provide in-depth policy references on future trends of the trilateral cooperation to the three governments. The Forum was sponsored by the prominent media of the three countries – the Asahi Shimbun, Chosun Ilbo and People's Daily.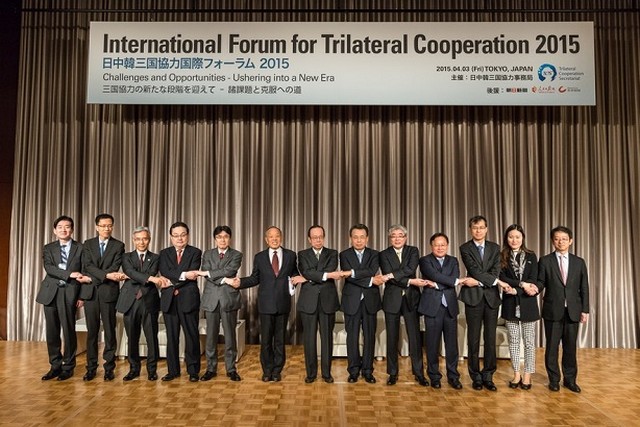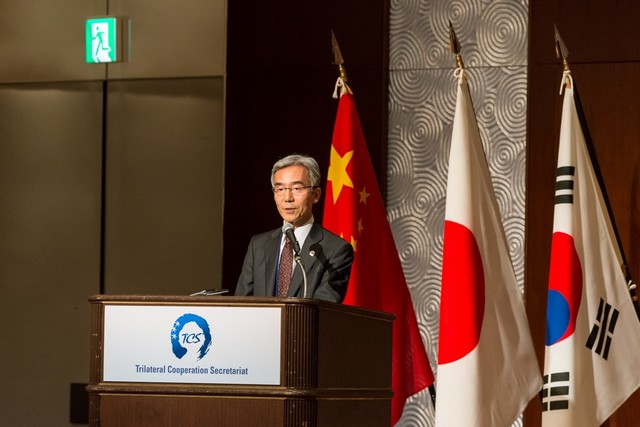 Welcoming Remarks by SG IWATANI Shigeo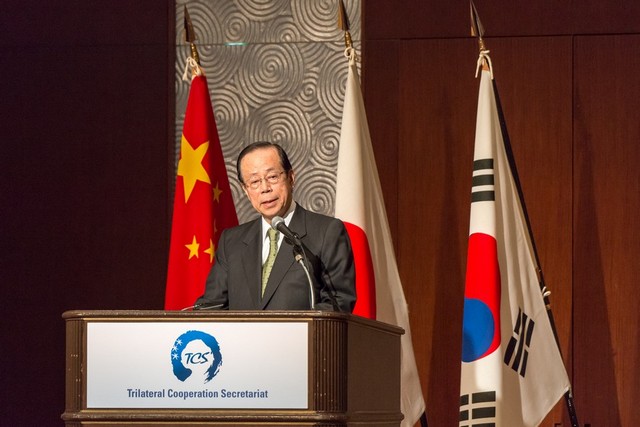 Keynote Speech by Mr. FUKUDA Yasuo, Former Prime Minister of Japan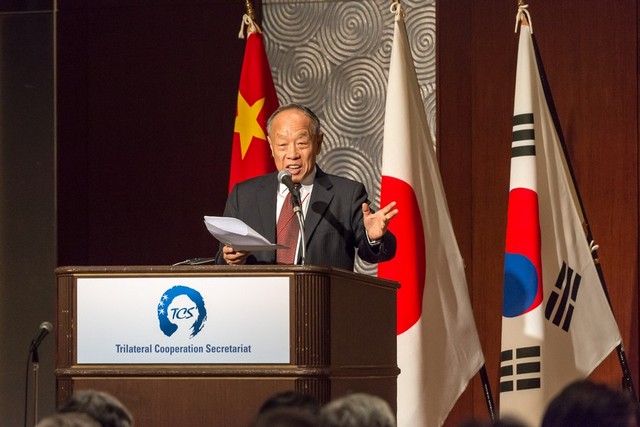 Keynote Speech by Mr. LI Zhaoxing, Former Foreign Minister of China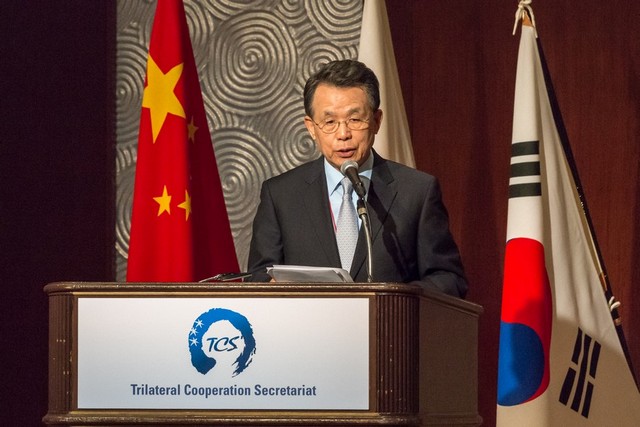 Keynote Speech by Mr. HAN Seung-soo, Former Prime Minister of the ROK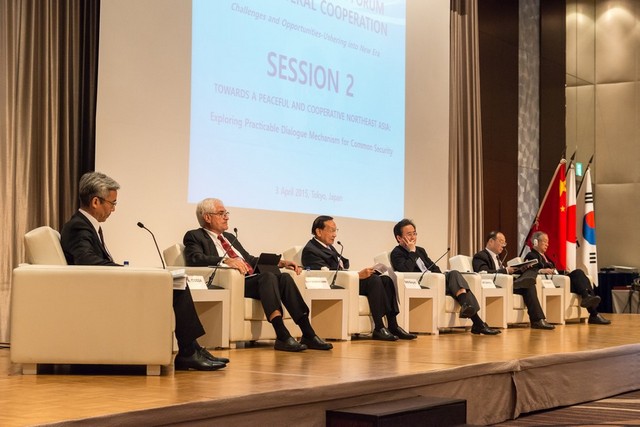 Political Session of "Towards a Peaceful and Cooperative Northeast Asia"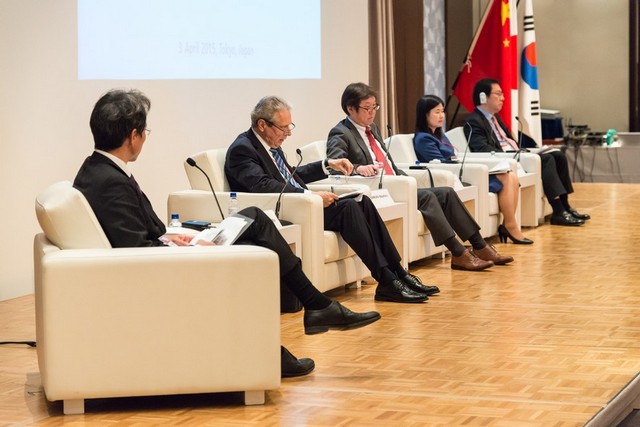 Socio-Cultural Session of "Cooperate to Learn, Learn to Cooperate"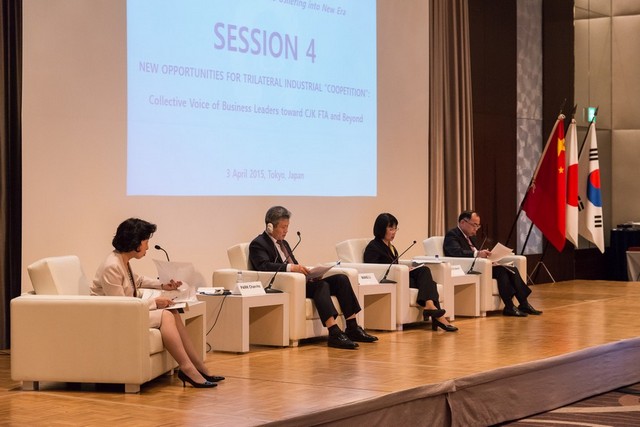 Economic Session of "New Opportunities for Trilateral Industrial Coopetition"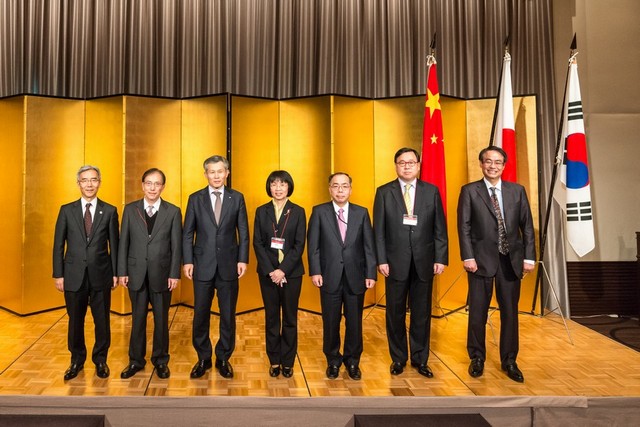 Trilateral Business Networking Reception Group Photo